Meet
Sorayah Kaschak, MSN, APRN, NP-BC
"I believe that our skin reflects our inner well-being and that a part of any comprehensive skin care regimen should include the promotion of better general health. Whether dealing with a medical or cosmetic issue, I like to take an evidence-based approach to treating my patients, being mindful of the whole person, and always striving for naturally beautiful results. I have been interested in dermatology and skin care for as long as I can remember, and I cannot think of anything I would rather be doing than helping my patients attain healthy, beautiful skin, hair and nails."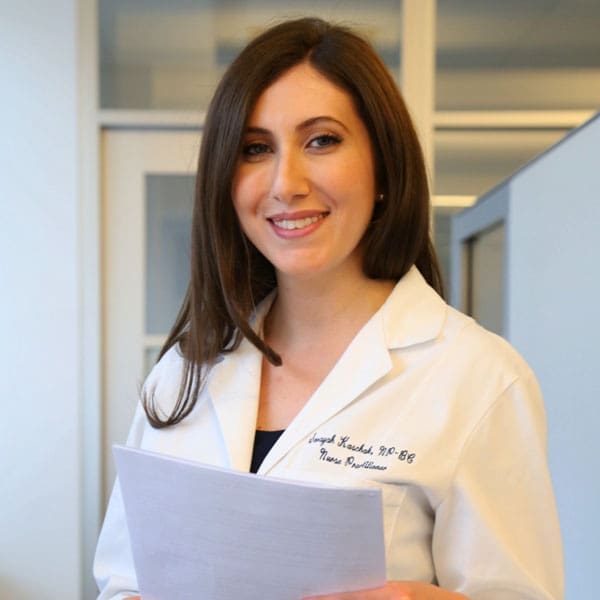 Sorayah Genevieve Kaschak is an Adult-Gerontology Primary Care Nurse Practitioner, board certified in Adult and Gerontology Health. She graduated from the New York University College of Arts and Science in 2004 with a Baccalaureate of Arts in Psychology, minoring in Chemistry. Shortly after graduating she began working at the Orentreich Medical Group (OMG) as a research and administrative assistant. Through her exposure to medicine at the practice, she became eager to work directly with patients, and decided to return to school to become a Registered Nurse.
She continued to work at OMG while she attended nursing school, and graduated from the New York University College of Nursing with her Baccalaureate of Science in Nursing with honors. As an R.N., she very much enjoyed caring for patients, and her desire to learn more about medicine prompted her to continue her education and expand her scope of practice. With the encouragement and support of OMG, Sorayah made the decision to become a Nurse Practitioner. 
While continuing to work at OMG as a Staff Nurse, she earned her Master of Science in Nursing with honors from the New York University College of Nursing in 2016. After completing her graduate studies and certification, she joined the Orentreich Medical Group as a Nurse Practitioner and began her training in dermatology.  Sorayah now sees patients for medical dermatological issues, including cosmetic treatments, and is the practice's CoolSculpting specialist. She is Board Certified by the American Nurses Credentialing Center and is a member of the American Nurses Association, Sigma Theta Tau International Honor Society of Nursing, and the Dermatology Nurses Association.