We all put tremendous stress on our hair. We expose our hair to hair dryers, hot curlers, hair color and highlights, hair straighteners, chemical-laden cosmetics and ultraviolet light (UV) from the sun. All of these elements can cause hair to become dry, brittle and sometimes thin. As we get older, hair may also start to lose volume and strength. For those who have thin hair or hair loss, proper hair care is even more important. Many of our hair loss patients feel that their thinning hair can be annoying and unmanageable. So what can we do to make our hair the best it can be? How can we effectively care for and protect thinning hair?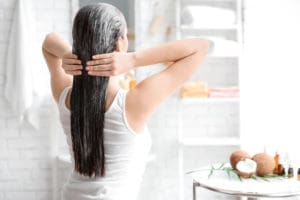 Here are some tips to prevent your hair from becoming damaged as well as to make your hair stronger. The goal is to make hair more resilient, so it can withstand these everyday attacks of product and chemical overload and environmental stress.
If you are coloring your hair, use single process hair color when possible, regardless of whether you have hair loss or not. We checked in with Lauren Hack at LRN Beauty to explain to us all about hair color.
A single process refers to any permanent color that is applied in one step. It is also called base color or root touch-up, but it need not be restricted to coloring just "the roots": single process color can be applied just to the roots or all over from roots to ends. A single process can cover up your grays, create more richness, change your overall hair tone and add shine. The key here is that the hair is colored only once and there is no bleaching involved. The result is less damaging to hair.
When you do highlights, on the other hand, you have a double process: bleach is used first and then a gloss is applied to tone the hair to the desired shade. So if you get highlights or bleach your hair, try to do it as infrequently as possible and be sure to go to a reputable colorist. Bleaching your hair penetrates the cuticle with chemicals and removes your natural pigment, thus changing the structure of your hair and damaging the outer cuticle. As a result, hair can become weakened, dry, dull and brittle. If you add blow drying and styling on top of bleaching you can further damage your hair, causing breakage and lots of split ends.
Regardless of the way you color your hair, you should use products that protect the hair–especially when you are blow-drying, curling, and so on. Using an oil, e.g., Shu Uemura Essence Absolue Nourishing Protective Hair Oil, can increase the hair's moisture level. Apply hair oils from mid-length to ends. These oils protect hair with intense nutrition (they have lots of great ingredients) and can provide UV protection without weighing down even the finest hair. You should choose an oil that is formulated for daily use and that is rapidly absorbed deep into the hair fiber. Oil can control frizzy hair and leave hair looking healthy while enhancing shine. It can also help protect hair color and decrease the friction that comes with combing after shampooing. These oils can be used as a conditioning treatment or styling aid, or as a pre-shampoo treatment, to be combed into dry hair before shampooing.
Proper hair brushing and combing can also help with hair quality. We know that wet hair breaks more easily when bruised, so it is best to use a wide-tooth comb so you are not pulling and breaking hair when detangling damp or wet hair. A natural-bristle brush can also prevent rough handling or breakage. Most important…be gentle!
It is also important to protect your locks from the UV radiation from the sun, since it is another stressor for our hair. The sun, salt water and chlorine can dry out hair and make it brittle. Using a UV hair protectant is a good idea when out in the elements and having fun in the sun. A product like Aveda's Sun Protective Hair Veil can protect hair from sun exposure because it contains UVA and UVB filters. It should be applied to dry or damp hair prior to and in the course of being out in the sun. It will reduce the havoc sunlight can wreak on your tresses. As with sunscreen for skin, don't forget to reapply after swimming or sweating. You should also wear a hat when you can, particularly at the beach or when sitting by the pool. 
Lastly, you should always keep your styling tools, such as straighteners, curling irons and blow dryers, on a low or medium setting. You don't need to fry your hair! Your hair will still respond to a medium temperature setting and you won't damage your hair in the process.
Regardless of whether your hair is thick or fine, straight or curly, hair care fundamentals apply to everyone! Protection basics are critical for all hair types—not just if you are experiencing hair loss.